Are gaming laptops worth it? To answer this question we would have to see how far gaming laptops have come and where do they stand now in terms of performance. In the most recent years, it is pretty clear that gaming performance-focused laptops have become increasingly more accessible to users than they were half a decade ago.
One particular reason for this development is that high-performance gaming graphics cards are now being manufactured relatively cheaply. Moreover, bigger companies such as Dell and Acer are spending millions to develop affordable yet powerful laptops with greater graphics capabilities and improved overall aesthetics.
To answer are gaming laptops worth it? Look for features in a laptop that you find interesting or resonate with your needs rather than blindly opting to buy an expensive product because someone said so, which could leave you rather unsatisfied.
Back when gaming laptops first came out they were immediately deemed undesirable. Partly because of their ugly looking bulky design, a meager output performance, thermal issues, and extravagant pricing. But since then a lot has changed.
Gaming Laptops these days are a lot affordable than what they used to be. Packed with powerful processors, they are capable of achieving impressive computational performance. Moreover, manufacturers have joined heads to create attractive designs to improve the overall look of the machines.
Talking about the pricing, manufacturers have targeted the under $1000 USD budget for gaming laptops which may seem to please the buyers. However, enforcing this as a standard compels manufacturers to cut corners which negatively impacts the performance and the look and feel of the device. I'll come to this later.
Read More: The Best Chromebooks of 2022 For Gaming
Are gaming laptops worth it?
You have to understand that high-performance laptops are more accessible to you now with a greater number of options and features. Yes, they do still cost a hefty amount but there are other budget options available as well.
So you do not necessarily have to worry too much about totally emptying your wallet. Instead, all you need is to know exactly what are the specifications in your mind or what specifications fulfill your needs.
I will be talking about some of the features you should look forward to in a gaming laptop which should help to decide whether gaming laptops are worth buying these days or is it better to stick to a desktop.
Are gaming laptops worth it? What makes a good gaming laptop?
This varies from user to user as everyone has their own specific needs and personal opinion might vary as well. However, some generic qualities do overlap regardless of the brand. Hence, my objective would be to shed some light on them.
So, let's discuss some of the key features one should look for in a high-performance gaming laptop before buying one.
Read More: Best Laptops with CD/DVD Drive to Buy in 2022
Are gaming laptops worth it? How expensive are they?
As I mentioned earlier, manufacturers do target the under $1000 budget for gaming laptops. But in doing so they do cut corners which means using cheaper components and reducing the overall build quality of the product.
In other words, buying a laptop under $1000 will only present you with entry level performance.
MSI GF63 8RC
Take MSI GF63 8RC for example, it comes with a 2.2 GHz Intel Core i7-8750H processor. Supported by Nvidia GF GTX 1050 Ti with 4 gigs of VRAM which is considered the entry-level graphics card in terms of gaming and a 16GB RAM.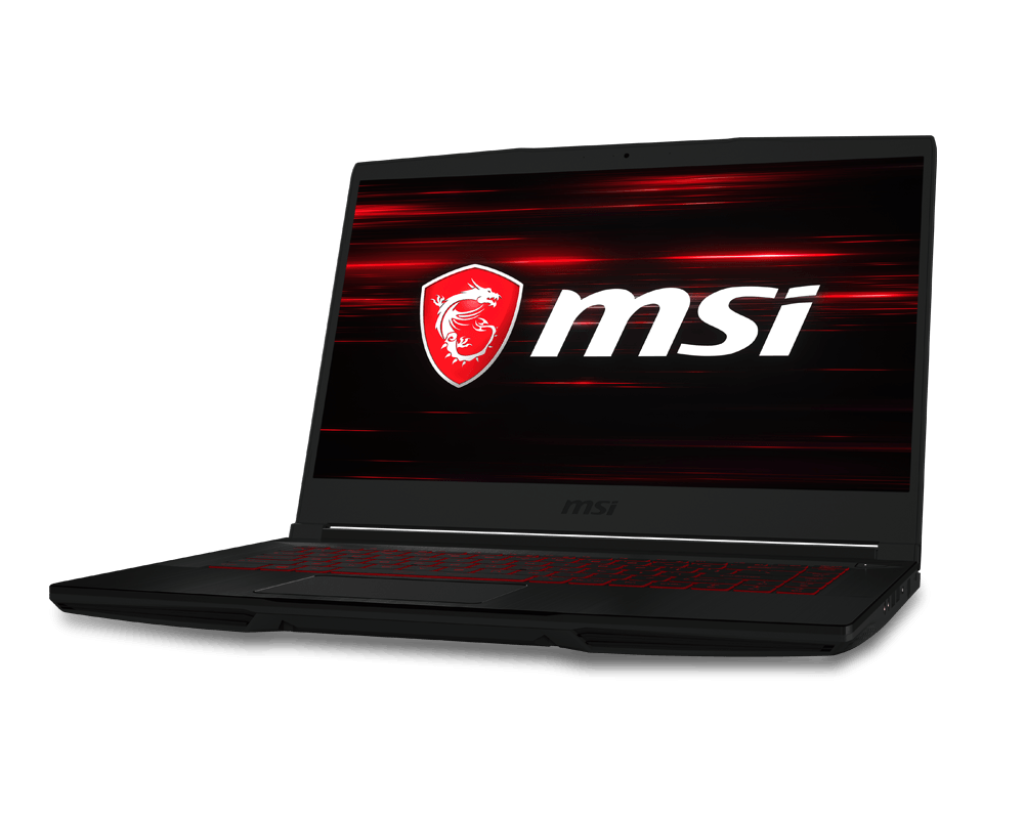 The MSI GF63 8RC is the type of gaming laptop where users can game without having to spend a fortune on a gaming laptop. Although it offers excellent performance it will let you play most games in a lower setting.
One complaint often heard by users regarding this device is its dull-looking screen. Although the display resolution is a good 1920 by 1080 it still appears to be dim.
This type of laptop is perfect for those entry-level players seeking to enjoy gaming with the comfort of a portable machine. However, where it lacks is the realms of competitive gaming which I suppose should not worry someone who just started gaming.
Read More: 21 Best Laptops for Programming Students in 2022
Acer Nitro 5
Another affordable laptop I believe is worth mentioning is the Acer Nitro 5 which provides stellar performance at an affordable price.
Powered by a 2.4 GHz Intel Core i5-8300H 9th generation i5 CPU and supported by Nvidia GF GTX 1650 with 4 gigs of VRAM, this makes it a killer combo for a laptop under $1000 USD.
It seems to be hard to differentiate between the MSI GF63 8RB and the Acer Nitro 5. In some areas where the MSI GF 63 8RB appears to lag behind the Acer Nitro 5 makes up and vice versa.
Both these devices offer a great deal for the casual gamer. Not to mention these laptops are far better than what most other Notebooks have to offer, allowing the users to run other software without any problems.
In the end, remember for a robust gaming experience you would have to spend above $1000 USD. Otherwise, you would end up with a machine that has entry-level specs. Gaming laptops are great but be ready to pay the premium price.
In the near future, we'll be able to see more specs available for the same price, and maybe by then, you could find a decent middle-tier gaming laptop for under $1000.
How powerful are they?
With the advent of the first generation gaming laptops, which was very clear from the beginning was that they lacked the performance benchmarks. Which their desktop counterparts were achieving seamlessly.
However, with the introduction of the GeForce 1000 series, the situation tilted in favor of the gaming laptops. GeForce explained how they would be producing the 1000 series cards which would be capable of being equipped on laptops.
These graphics cards proved to be just as powerful as the ones made for desktop computers. Moreover, the issue with temperature has been diminished with the latest designs. Hence the cards on laptops were designed to run under the maximum permissible limit.
These days we can see how laptops are capable of achieving performance benchmarks that were deemed impossible a decade ago. Moreover, performance is a factor that will continue to grow for the time to come.
Portability, Weight and Build Quality
Gaming laptops are surprisingly not all that bulky! That is if you do not consider the ones on the very top of performance. The most high-performing laptops equipped with the very high-end graphics cards require massive intake ports to cool them off.
Not only are they super bulky but its almost impossible to carry them around or place on your lap. That negates the very purpose of the laptop which is that it should be portable.
However, your average middle-tier 'Notebook' gaming laptops are surprisingly slim. They are portable and weigh enough for you to easily carry them around in your backpack.
Many of your entry-level gaming laptops have a decent battery life which means you would not have to carry chargers everywhere with you.
When it comes to the build quality of a gaming laptop, it is a pretty rugged device. They are made with the idea in mind to endure consistent keyboard taps and clicks. They come with a heavy built-in copper heat sink to enable the user to experience lag-free high-performance benchmarks.
Gaming laptop or desktop?
I should point out how the gaming laptop is a luxury item. A regular budget laptop gets your work done using the bare minimum specifications. However, if you were to demand more performance out of your machine then you would have to upgrade to a gaming performance laptop.
Gaming laptops are powerful computers that allow you to do all the tasks, run-heavy software, and play games which would normally require a high-end desktop. They let you achieve what most laptops simply cannot.
The biggest feature that makes a gaming laptop or any laptop for that matter, win over any desktop is portability. However, for a detailed analysis let's look at some of the key differences between gaming laptops and desktop computers.
Benefits of owning a gaming laptop
Portability:
This is easily the number on the benefit of using a gaming laptop over a desktop. This allows you to take your laptop or 'gaming rig' possibly anywhere you would like. Such as taking your laptops to your class, at the coffee shop while hanging out with friends.
You could be relaxing on your couch while playing games online with your friends. Basically you get to take your gaming rig anywhere you want.
Multiple usages:
Your gaming laptop allows you to play games on your workstation, just imagine that! Your gaming laptop does not always have to be your 'gaming only machine' you could load your work, complete your tasks, and when you're done start gaming.
In comparison your office desktop won't allow you that.
Also, remember that your laptop is a versatile machine. Meaning it was made to connect with other devices for example you could connect it to your lounge T.V. and watch a show on it.
Aesthetics:
When it comes to aesthetics nothing tops a gaming laptop. You could show off the diligently crafted outer metal surface, those intake ports for air to pass along, and finally, those LED flashing lights.
Benefits of owning a desktop computer
Reasonable Pricing:
Sure computer parts are not that cheap but if you were to compare your $500 USD desktop gaming rig to a $1000 USD gaming laptop you would find that comparison just isn't possible between the two.
Your desktop computer would outperform your laptop on every benchmark. Moreover, think of all the money you just saved which you could use to upgrade your computer! So it is a double win for the desktop in terms of pricing.
No thermal issues:
You could squeeze every bit of performance from your desktop CPU because you do not have to worry about it every heating up to a point where it would possibly damage the CPU or the motherboard.
All that is possible thanks to the towering heat-sink you can apply to your CPU to keep it cool. What's more, nowadays you could even hook up your CPU to a liquid cooling system. So, the thermal issue is not a problem.
Conclusion
So, are gaming laptops worth it? Should you buy one in 2022? Well, the short answer to that would be to go ahead and buy one. We have looked at many reasons for how a gaming laptop could benefit you if portability is your primary concern.
Moreover, thanks to the high-end graphics card availability, laptops are fast enough and rugged to basically endure whatever you throw at them!
---
Looks like you have made it to the end! Thank you for reading this article, I hope the article has answered your question. In case of any queries comment below and do share this article with your friends.
---