ASUS VG278Q is one of those monitors that could no doubt be considered as a big bang for your buck! With a price of about $300, it could be considered the cheapest monitor available with the features it has to offer. In this post, I will review the ASUS VG278Q on the basis of specs, features, and design which are considered as important benchmarks for any gaming monitor.
Stay tuned!
Coming in a very sleek black coating with a beautiful texture, you can't differentiate between an expensive monitor and ASUS VG278Q. It also offers an ergonomic and durable design, with a 1080p screen, 144Hz frequency, 1ms response time, and G-sync compatibility to offer very smooth gameplay. Furthermore, its eye care technology and blue light control make sure the user stays safe from overuse. Be sure to read the full review.
| | |
| --- | --- |
| Pros: | Cons: |
| 1. Is G-sync and AMD free sync compatible. | 1. Comes in 1080p and not UHD or QHD. |
| 2. Has a low input lag and quick response time. It also comes with a motion blurr reduction upto 144Hz | 2. Inferior image quality due to TN panel |
| 3. Fully ergonomic and durable design made of high-quality plastic | 3. Narrow viewing angles and low contrast images at low brightness |
| 4. Comes at a lesser price than its competitor models | |
ASUS VG278Q Review: Design
The ASUS VG278Q comes with a design that is aesthetical, providing any sort of an appeal a user might be looking for. And also, a design that is thoughtful and strong. ASUS used a black coating, with a beautiful texture, that doesn't make it seem like a budget monitor. Like always, ASUS has managed to maintain its aesthetics.
Moreover, the monitor comes with an aluminum stand, which doesn't wobble and is solid. It is durable and very efficient when it comes to adjusting the screen left, right, up or down and front or back. The maximum adjustable display height is of about 5.1″.
Also, the plastic used to make it is high-quality and solid, making sure to create a lasting bond with its user. The casing can withstand rough handling and when it's tilted or swiveled for adjustments, there is no creaking or any other such sound, confirming its high-quality build.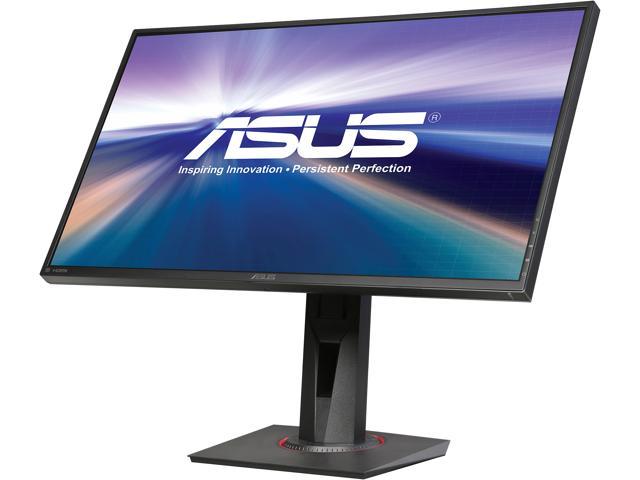 Although the bezels around the screen aren't as thin as many monitors have, it's thin enough for monitors at this price. The front face is quite clean and doesn't bring any distractions as well.
As for the buttons, you can only see their markings on the front right side, while the actual buttons lie behind the screen. Also, you get a joystick for controlling the on-screen display, which is very easy to use and might appeal to you even if it's the first time you use it.
Also, the monitor could be set to a vertical display which is beneficial for programmers, developers, coders, etc. It can also be mounted on your wall as it comes with VESA compatible.
Specifications
ASUS VG278Q Specifications
Screen Size
27-inch
Resolution
1920×1080 (Full HD)
Panel Type
TN
Aspect Ratio
16:9 (Widescreen)
Refresh Rate
144Hz
Response Time (GtG)
1ms (GtG)
Response Time (Extreme Low Motion Blur)
1ms (MPRT)
Adaptive Sync
FreeSync (40Hz-144Hz)
G-SYNC Compatible
Speakers
2x2W
Ports
DisplayPort 1.2, HDMI 1.4, DL-DVI-D
Other Ports
Headphone Jack
Brightness
400 cd/m2
Contrast Ratio
1000:1 (static)
Colors
16.7 million (6-bit + FRC)
VESA
Yes (100x100mm)
ASUS VG278Q Review: Performance
As for performance, the Asus VG278Q monitor pairs with Nvidia's G-Sync technology. Nvidia's G-sync is a type of an adaptive sync technology used on PC monitors and laptop screens. This technology uses the individual monitor's refresh rates to eliminate screen tearing.
Screen tearing is when a display device shows information from multiple frames in a single screen draw. The artifact occurs when the video feed to the device is not in sync with the display's refresh rate. So, what G-sync does is that it matches the displays refresh rate to the Nvidia graphics card's render rate so that you get to see the images immediately after they are rendered while fighting input lag at the same time. With this said, screen tearing is never an issue with ASUS VG278Q.
Moreover, with its 144Hz refresh rate, it can provide butter-smooth gaming action. Furthermore, it has a TN panel, which is not as good as an IPS panel as it provides lesser viewing angles. But, it's hard to get a monitor with an IPS panel at this price. You can buy its counterpart with an IPL but it costs significantly more.
The monitor has a resolution of 1920 x 1080 pixels, an HD monitor, which doesn't appeal in this era of QHD and UHD monitors, but again there comes the factor of price. Compared to the monitor's price, an HD monitor isn't bad either.
The monitor has a contrast ratio of 1000:1 and a maximum brightness of 400 nits. This means that no matter the brightness of your surroundings, this monitor will show you your content with no problem at all. However, the contrast does seem to go down at 30% brightness but that shouldn't be much of a problem.
The picture quality is also good and provides very colorful and deep images in bright surroundings. However, blacks may seem gray in dark surroundings. Also, due to the TN panel, it provides lesser viewing angles but the monitor is very adjustable so that should counter it.
The most appreciable thing is ASUS VG278Q's 1ms response time, which ensures that the monitor manages to keep ghosting, motion blur, and tracing to an absolute minimum. The input lag is also around 11ms which compares well with other competitive monitors at this price.
ASUS VG278Q Review: Connectivity and Appreciable Features
The ASUS VG278Q comes with an HDMI port, a DVI port, and also a Display port. There is also a headphone jack and an audio-in jack as well. Appreciably, the ports are at the side, which makes it very easy to plug in and out. This is also very helpful for those users who would want to mount the display on their walls.
Furthermore, ASUS VG278Q comes with G-sync and AMD FreeSync compatibility. This matches the frame rate of your monitor with that of our GPU, making your gameplay very fluid and smooth. Moreover, the ASUS eye-care technology takes care of your eyes if you sit against the screen for a very long time. It also controls the amount of blue light emitted and minimizes the flicker to almost zero.
Final Words
ASUS VG278Q offers everything a pro gamer could demand. And all of this at a very good price. It offers great performance and it's really appreciable how ASUS made it G-sync and AMD free sync compatible. It also comes with a very strong and ergonomic design, with sufficient connectivity ports that are easily accessible.
However, if you are not someone who would go solely for performance, then this monitor might not satisfy you due to its 1080p quality and TN panel. I would then suggest that you go for some other, more expensive monitor that would feature IPL panel and has UHD or QHD. But, for someone who wants performance and is on a budget, then this monitor is nonetheless for you.